The 3 Best Hostels at the Kenyan coast
If you are traveling on a budget, then this is definitely for you. Throughout my 20s I only stayed in hostels every time I traveled somewhere because it was the only type of accommodation I could afford at the time, but I always had a lot of fun meeting like-minded people and making new friends in no time. The hostels listed embody the perfect blend of comfort, affordability, and unforgettable experiences. Whether you're a budget-conscious traveler, a backpacker seeking new connections, or simply an adventurer in search of a unique coastal getaway, I hope these amazing hostels will make your stay along the Kenyan coast an extraordinary one.
Summary
Nestled in Kilifi, Kenya's coastal town, discover the hidden gem of Distant Relatives Hostel, one of the best hostels in Kenya. This eco-friendly haven welcomes adventurers from around the world, offering a serene escape from everyday chaos. As you step inside, the warm and friendly staff instantly make you feel at home. The hostel's rustic charm and laid-back atmosphere captivate guests, fostering connections and unforgettable experiences.
Accommodation Options
The hostel provides an impressive range of accommodation options to suit various preferences and budgets. From cozy dormitories to private rooms and even safari tents, guests can find their ideal space. The rooms are well-maintained, and comfortable, and offer a peaceful retreat after a day of exploration.
Rates
Distant Relatives Hostel excels in offering affordable pricing without compromising on quality. The rates are reasonable, making it an excellent choice for budget-conscious travelers. The value for money is outstanding, ensuring a pleasant stay without straining your wallet.
Activities and Social Spaces
This hostel is a hub for exciting activities. Whether you're an adventure enthusiast or seeking cultural immersion, Distant Relatives has something for everyone. Snorkeling, scuba diving, thrilling safaris, and engaging in volunteer projects are just a few options available. The staff is knowledgeable and can assist in arranging these experiences, ensuring a seamless and memorable adventure. Distant Relatives Hostel boasts vibrant social spaces that foster connections among guests. The open-air lounge, complete with swinging hammocks and cozy seating, provides the perfect setting for mingling and sharing stories. Whether it's relaxing with a book or engaging in lively conversations, the hostel creates an inviting ambiance that encourages social interaction. Based on various reviews this can be considered as one of the best hostels in Kenya.
Diani Backpackers, one of the most well-known hostels in Kenya, presents an alluring destination for travelers in search of a harmonious blend of cozy accommodations, economical pricing, exhilarating activities, and dynamic communal spaces.
Accommodation
Diani Backpackers offers a diverse selection of lodging options, catering to the unique preferences of every traveler. Whether it's dormitories, private rooms, or snug tents, guests can find their ideal sanctuary. These accommodations are well-maintained, ensuring a tranquil haven after eventful days.
Rates
One of Diani Backpackers' prominent features is its pocket-friendly pricing. With affordable rates, it stands as an attractive choice for those mindful of their expenses. Despite the economical costs, the quality of both accommodations and services remains commendable, guaranteeing excellent value for money.
Activities and Social Spaces
Diani Backpackers serves as a haven for adventure enthusiasts. An abundance of exhilarating activities awaits, including snorkeling, diving, and kite surfing. Furthermore, exploring the nearby Shimba Hills or engaging in captivating safari adventures is just a stone's throw away. The hostel's knowledgeable staff facilitates seamless arrangements, ensuring unforgettable escapades. Diani Backpackers fosters lively social environments, encouraging camaraderie among guests. From communal lounges to inviting outdoor spaces, these areas facilitate meaningful connections. Engage in conversations, share laughter, and forge enduring friendships while partaking in organized events, creating cherished memories.
Stilts Backpackers in Diani is a delightful haven that offers a memorable experience for travelers, boasting a combination of versatile lodging choices, affordable pricing, thrilling activities, and inviting social spaces. It's another great option if you are looking for an affordable stay in Diani Beach and also one of the best Kenya hostels.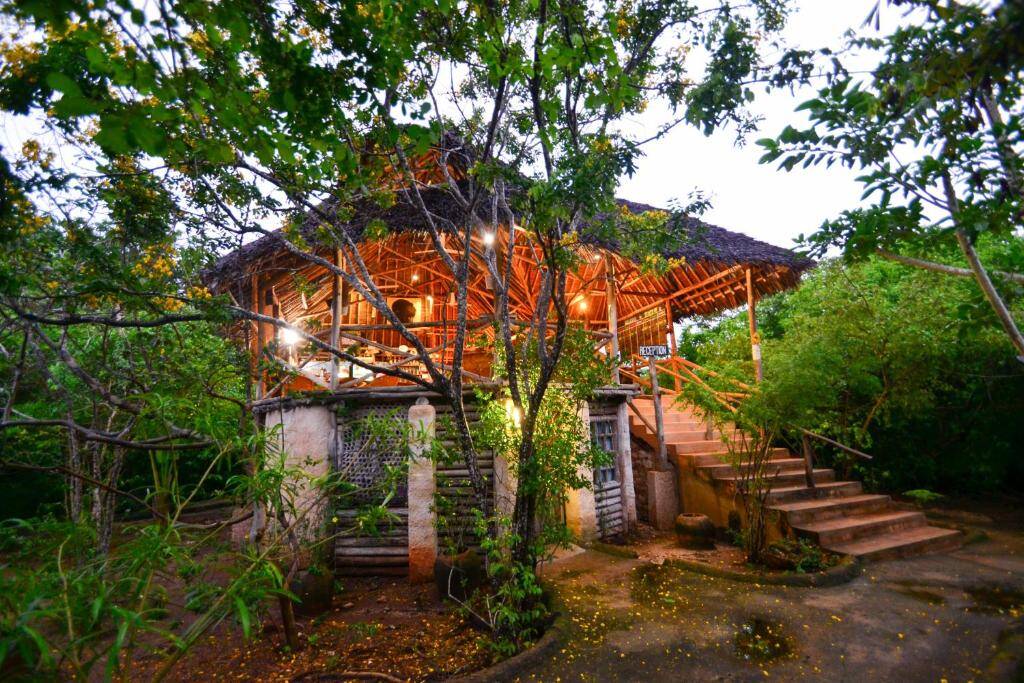 Accommodation
Stilts Backpackers provides a range of accommodation options to cater to diverse preferences. From shared dormitories to private rooms, guests can find the perfect space to suit their needs. The accommodations are well-maintained, providing a comfortable and cozy retreat after a day of exploration.
Rates
Stilts Backpackers stands out with its competitive pricing, making it an attractive choice for budget-conscious travelers. The rates are affordable without compromising on quality, ensuring excellent value for money. Guests can enjoy a pleasant stay without straining their wallets.
Activities and Social Spaces
Stilts Backpackers offers a variety of exciting activities to engage in. Whether it's water sports like snorkeling and diving, exploring nearby attractions, or embarking on thrilling safaris, there are plenty of options to satisfy adventure seekers. The hostel's friendly staff can assist in organizing these activities, ensuring a seamless and exhilarating experience. Stilts Backpackers provides welcoming social spaces where guests can connect and interact. From communal lounges to outdoor areas, these spaces foster a friendly and inclusive atmosphere. Whether it's engaging in conversations, playing games, or simply relaxing and enjoying the company of fellow travelers, the social spaces offer a sense of community and camaraderie.