The 4 Best Budget Safari Camps in Amboseli National Park
Summary
Kilima Safari Camp
Amboseli Serena Safari Lodge
AA Lodge
Kibo Safari Camp
1. Kilima Safari Camp
One place I'd defiintely recommend is Kilima Camp! It's smack in the middle of the breathtaking Amboseli National Park, surrounded by the badass Mount Kilimanjaro and a bunch of amazing wildlife.
This safari camp isn't just any camp – it's has a balanced mix of luxury, adventure, and a great vibe.
Back in the day, around the 1970s, Kilima Camp started off as this cute little family lodge. They were all about giving thrill-seekers and nature lovers a taste of Amboseli's amazing ecosystem.
Fast forward a bit, and now Kilima Camp is the ultimate safari hotspot. It's all about blending comfy living, saving nature, and embracing the local culture. It embraces the spirit of glamorous camping in the wild!
Accommodation
Kilima Camp offers a selection of well-appointed and eco-friendly accommodation options, ensuring a comfortable and immersive stay in the heart of the African wilderness.
You can choose from elegantly furnished tents, elevated on wooden platforms, and designed to blend seamlessly with the surrounding environment.
Each tent features spacious interiors, comfortable beds, en-suite bathrooms, and private verandas that offer panoramic views of the sprawling plains, Mount Kilimanjaro, and the resident wildlife.
The camp's commitment to sustainability is reflected in its use of solar power, eco-friendly toiletries, and responsible waste management practices.
Standard Tent – Mount Kilimanjaro View: 1 Queen Size Bed + 1 Single Bed, Standard Tent with Direct pool View within Luxury Surroundings 35 SQM
Milima Safari Tent – Mount Kilimanjaro View: 1 Queen Size Bed + 1 Single bed, Milima Tents are for anyone who wants added luxury. You can enjoy great game viewing from your tent which face the animal water pools and all public areas and the rooms are set towards Mount Kilimanjaro – 50 SQM
2. Amboseli Serena Safari Lodge
Accommodation
Let's talk about Amboseli Serena Safari Lodge – the ultimate place in the wild! The hotel has big, comfy rooms as well as elegant Maasai-style suites that seriously take you on a journey.
The views are amazing too. You've got front-row seats to Mount Kilimanjaro or the endless savannah. The rooms and suites feature modern amenities, plush furnishings, and private balconies or terraces, inviting guests to relax and immerse themselves in the beauty of their surroundings.
With a fusion of traditional African aesthetics and contemporary comforts, the lodge creates a serene and luxurious atmosphere that complements the natural wonders of Amboseli.
Amboseli Serena Twin Room: The Twin Rooms, which feature two twin beds and a private balcony overlooking the magnificent grasslands of Amboseli National Park, are furnished with local antiques, antiquities, and furnishings.
Amboseli Serena Double Room: The Double Room, which features one king bed and a private balcony with views of the spectacular grasslands of Amboseli National Park, is furnished with local antiques, antiquities, and artwork.
Amboseli Serena Family Room: The two-bedroom Family Room features a bedroom with a king bed, a second bedroom with two twin beds, a common bathroom and a private terrace with views of the magnificent grasslands of Amboseli National Park. It is furnished with local antiques, artefacts and artwork.
Amboseli Serena Ol Donyo Oibor Suite: Equally suited to be a presidential/CEO, honeymoon or VIP venue, our spacious and elegant Ol Donyo Oibor Suite enjoys a fabulous view of Kilimanjaro from its private balcony and rooftop terrace.
3. AA Lodge
With Mount Kilimanjaro as its beautiful backdrop, AA Lodge Amboseli offers a serene and enchanted haven in the heart of Amboseli National Park.
Accommodation
The spacious units have their own balcony, reading table, closet, and all necessary furniture, including hairdryers and safes. Private bathrooms in every room come with free toiletries.

Breakfast choices at the resort include American, Continental, Halal, and vegetarian selections. The on-site restaurant offers local fare as well. The bar offers a variety of beverages.
A communal lounge, a business center, and a gaming room are available at AA Lodge Amboseli. Private parking is available at the building for no charge.
The front desk personnel is available 24 hours a day and is fluent in various languages!
4. Kibo Safari Camp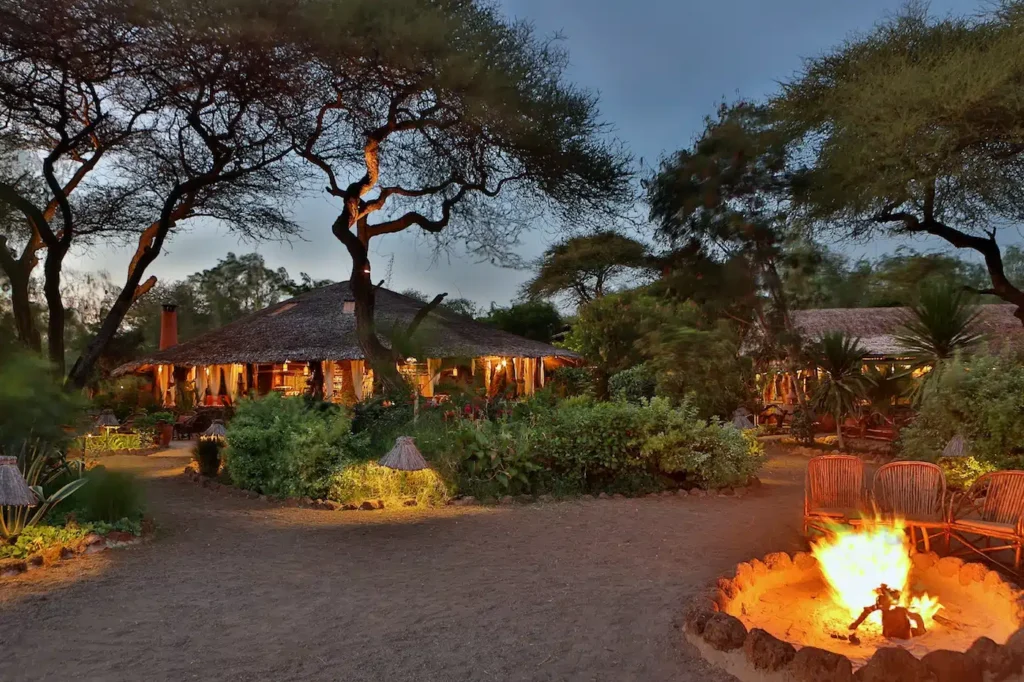 Kibo Safari Camp is tucked away in the beautiful backdrop of Amboseli National Park. With a fascinating history, a wide range of housing options, and great culinary experiences, this camp offers a distinctive safari retreat.
Accommodation
The 73 self-contained tents at Kibo Safari Camp may accommodate single, double, triple, and family travelers. A restful night's sleep is guaranteed by the locally built, specially constructed beds made of bush wood. There are flush toilets, showers, and sinks in every tent. You can take a shower whenever you choose, whether you prefer it hot or cold. Your home away from home during your time in the African bush will be Kibo Safari Camp.
Conclusion
Amboseli National Park is an amazing place to see wildlife, especially if you love animals! With massive canvas of African savannah, and the gigantic Mount Kilimanjaro towering in the background – it's like nature showing off its best tricks! I hope this guide on the best budget places to stay at Amboseli inspires you to visit this beautiful national park and all it has to offer!