Top 5 must-do activities When Visiting Diani Beach
Diani Beach is the ultimate destination for sun, sand, and adventure along the stunning Kenyan coast. Personally, I believe it to be the best destination for a beach holiday as it has everything one would need to make the most out of your holiday experience on the Kenyan coast. In this blog post, we will explore five must-do activities that will make your time at Diani Beach unforgettable.
Activity 1: Kite Surfing
I started kitesurfing about a year ago. It was always on my bucket list but as most people know, life gets in the way and you keep kicking the can down the road. However, once I made a conscious commitment I'm really happy that I did. Kitesurfing is actually a lot of fun once you get the hang of it. If you are interested in learning this awesome skill, prepare for a steep learning curve – and don't get discouraged. Once you experience the exhilaration of kite surfing, where you can harness the power of the wind and glide across the sparkling turquoise waters, there's nothing like it! Whether you're a beginner or an expert, Diani Beach offers the perfect conditions for this thrilling water sport.
Activity 2: Scuba Diving
Scuba Diving was another point I needed to cross off my bucket list. At Diani Beach, you have great dive sites where you can have a great experience exploring the underwater world. I've written a whole blog post about pursuing my PADI divers certification at Diani Beach where you can get a detailed account of my experience. If Scuba Diving was always something you were curious about, then wait no longer and dive into the underwater wonderland that Diani has to offer, explore the vibrant coral reefs and encounter an abundance of marine life.
Activity 3: Snorkeling
Immerse Yourself in Colorful Marine Life Grab your snorkeling gear and plunge into the clear waters of Diani Beach to discover a kaleidoscope of colors. Swim among the coral reefs, spot tropical fish, and immerse yourself in the wonders of the ocean.
Activity 4: Beach Relaxation
Probably one of the most common activities at Diani Beach is simply to unwind in tranquil serenity and indulge in blissful relaxation on the soft sands of Diani Beach. Soak up the warm sun, listen to the gentle lapping of the waves, and let the ocean breeze rejuvenate your senses. It's the perfect opportunity to unwind and recharge.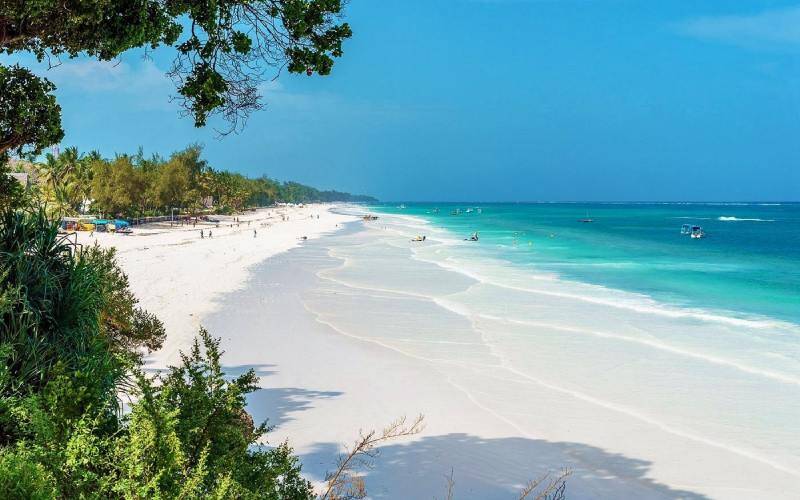 Conclusion
The above-suggested activities at Diani Beach offer an array of unforgettable experiences for adventurers and relaxation seekers alike. From the thrilling rush of kite surfing and scuba diving to the tranquility of beach relaxation and the mesmerizing beauty of sunset cruises, this coastal paradise has something for everyone. Pack your bags, embrace the allure of Diani Beach, and embark on a journey filled with adventure and serenity.