The Best Areas in Nairobi
Nairobi, the vibrant capital city of Kenya, is a melting pot of diverse cultures, breathtaking landscapes, and thriving urban life. As you plan your visit to this enchanting gem in East Africa, it's essential to know which neighborhoods offer the most delightful experiences. In this blog post, we will explore the best areas in Nairobi that showcase their unique charm and provide you with an unforgettable stay.
Before we delve into the specific areas, I think it might be useful to quickly outline how far each of these areas is from Jomo Kenyatta International Airport.
Westlands: ~ 25 mins
Karen: ~ 30 mins
Lavington: ~ 30 mins
Gigiri: ~ 40 mins
These times can vary depending on the level of traffic.
Central Business District (not a residential neighborhood but I thought I'd include the CBD as it is the city center and still deserves a mention 😊)
The epicenter of Kenya's administrative, commercial, and economic operations is Nairobi's CBD, often known as the Central Business District (CBD). The CBD, located in the center of Nairobi, is a busy area distinguished by soaring skyscrapers, contemporary office buildings, and bustling street life.
With the headquarters of major banks, financial institutions, and multinational enterprises, it acts as the country's financial hub.
The CBD is a hub for business as well as a melting pot for culture and society, with a vast variety of eateries, stores, and entertainment venues that serve a wide range of demographics.
With key roadways and public transport networks converging here, the CBD serves as a crucial transit hub by enabling the movement of people and products. Its dynamic and ever-changing urban environment reflects Nairobi's development and aspirations to become a significant African city.
One of the most popular attractions in the CBD is the International Conference Centre. Visitors usually go to the center to experience the amazing 360-degree view of the entire city from the top of the building. This spot makes for amazing pictures and is a great way to get a bird's eye view of the city.
Westlands: Restaurants, Nightlife and Business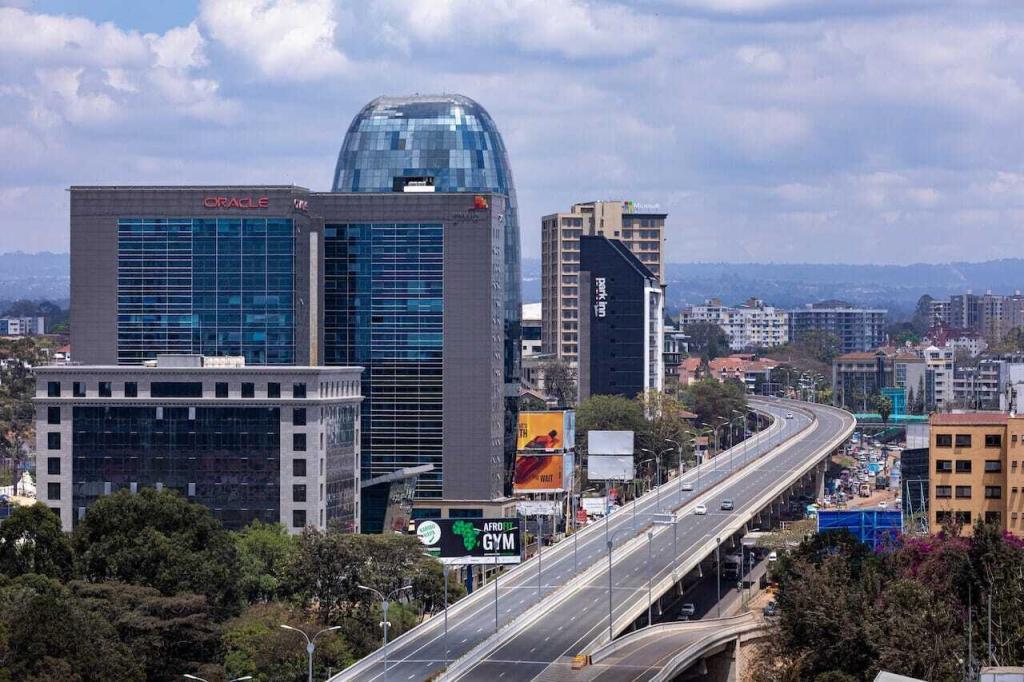 Nairobi, the bustling capital city of Kenya, is known for its vibrant culture, diverse communities, and unique neighborhoods. Among these, Westlands stands out as a dynamic and thriving area that encapsulates the city's essence.
Located just a few kilometers northwest of Nairobi's central business district, Westlands is a melting pot of entertainment, commerce, and residential charm and the most central area in Nairobi as it has easy access to all areas of the city.
Entertainment and Nightlife
Westlands is renowned for its vibrant nightlife, offering a wide array of entertainment options for locals and visitors alike. The neighborhood is dotted with trendy bars, clubs, and lounges that cater to various tastes. Whether you're in the mood for live music, dancing, or a relaxed evening with friends, Westlands has it all.
Popular establishments like Brew Bistro, Kiza Lounge, and Sarit Centre's rooftop bars are known for their energetic ambiance and memorable experiences. So if you are into vibrant nightlife, this neighborhood in Nairobi is definitely for you.
Shopping and Dining
Westlands is a shopaholic's paradise, offering a mix of local markets, shopping centers, and high-end boutiques. Sarit Centre, one of Nairobi's oldest and largest malls, is a hub for retail therapy. It houses a wide range of local and international brands, restaurants, and cinemas.
The Westgate Shopping Mall, with its modern architecture and diverse stores, is another prominent destination. From trendy fashion outlets to unique craft markets, Westlands presents a multitude of options for fashion enthusiasts and souvenir hunters alike.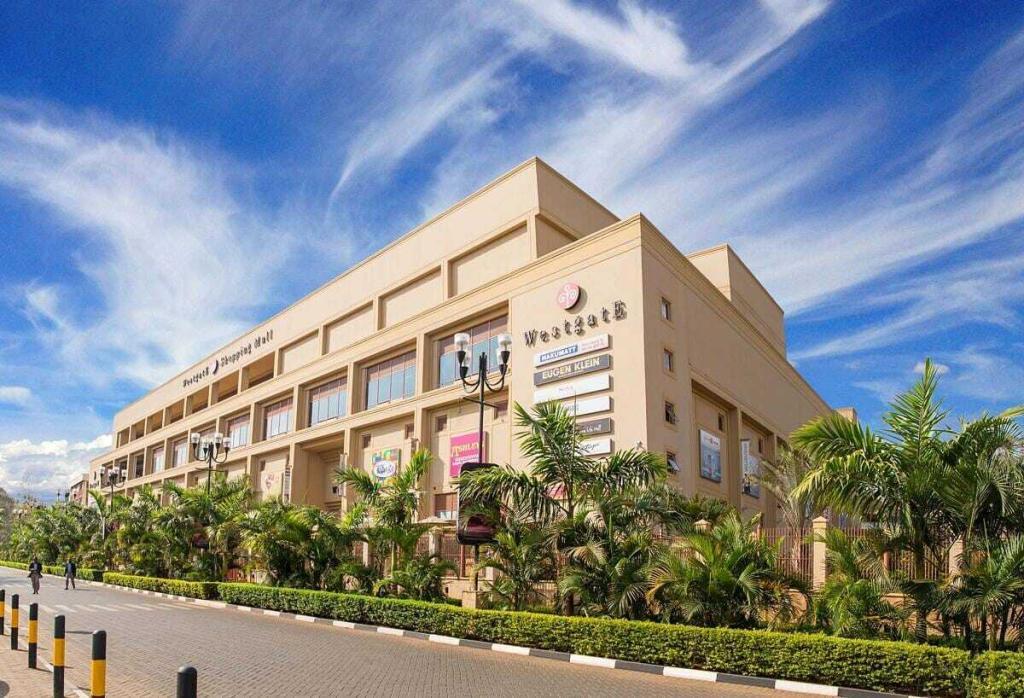 Cultural Landmarks
Westlands is home to several cultural landmarks that showcase the city's rich heritage and artistic expression.
The Nairobi National Museum, located within the area, offers an insight into Kenya's history, art, and culture. It houses a vast collection of artifacts, interactive exhibits, and a snake park. The GoDown Arts Centre, a creative space for contemporary art, hosts various exhibitions, performances, and workshops, contributing to Nairobi's vibrant art scene.
Green Spaces and Outdoor Activities
Amidst the urban hustle, Westlands boasts several green spaces where one can escape the city's bustle and indulge in outdoor activities.
Karura Forest, located nearby, is a sprawling urban oasis that provides a serene retreat for nature lovers. The forest features walking trails, picnic spots, and cycling paths, offering a perfect blend of relaxation and adventure. For sports enthusiasts, the Westlands Sports Ground provides facilities for soccer, tennis, and other outdoor activities.
Business Hub
Westlands is not just a center for leisure and entertainment but also a bustling business hub. It hosts numerous corporate offices, making it a prominent location for both local and international businesses. The area's strategic location, along with its well-developed infrastructure and accessibility, makes it an attractive destination for companies looking to establish a presence in Nairobi.
Karen: The Green suburb of Nairobi
Nairobi, the capital city of Kenya, is known for its bustling streets, vibrant culture, and diverse areas. Among these, Karen stands out as a serene and picturesque suburb that offers a delightful escape from the city's fast-paced life.
Located to the southwest of Nairobi's central business district, Karen is named after Karen Blixen, the Danish author of "Out of Africa." In this blog post, we will delve into the enchanting allure of Karen and explore why it is a must-visit destination in Nairobi.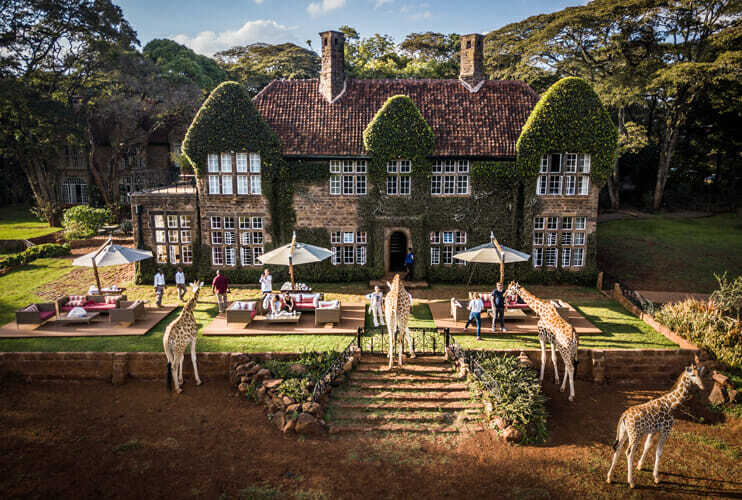 Sublime Natural Beauty
Karen is renowned for its lush greenery, rolling hills, and captivating landscapes. The suburb is home to several expansive estates, each with its own charm and character.
One of the most iconic landmarks is the Karen Blixen Museum, which was once the residence of the author. Visitors can step into the world of "Out of Africa" and learn about Blixen's captivating life in colonial Kenya.
Adjacent to the museum is the tranquil Karen Blixen Coffee Garden, a perfect spot to enjoy a cup of coffee amidst beautiful gardens.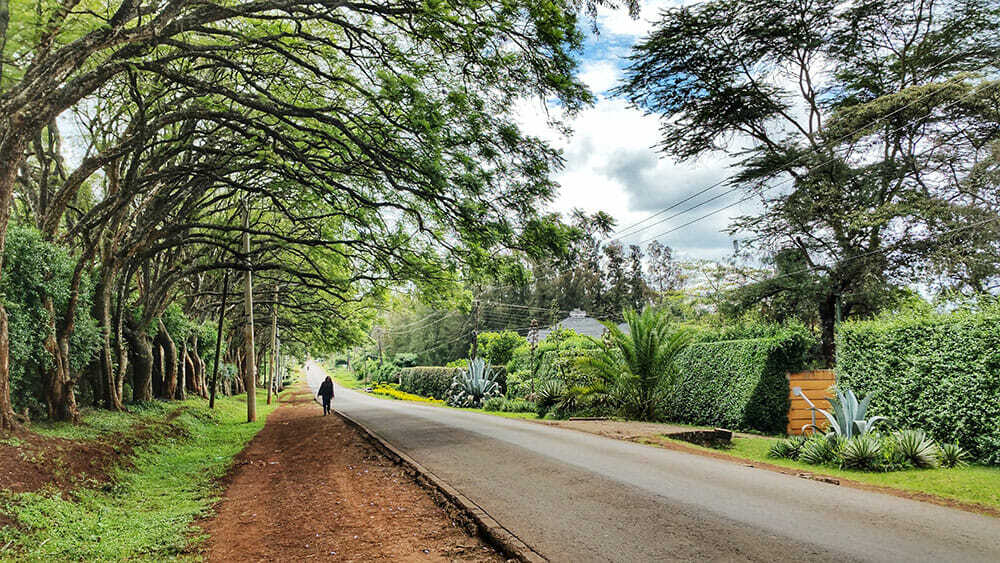 Wildlife Encounters
A visit to Karen wouldn't be complete without experiencing the area's wildlife encounters. The Nairobi National Park, located nearby, is a unique gem that allows visitors to witness wildlife in their natural habitat, right on the outskirts of the city. Visitors can embark on thrilling game drives to spot lions, giraffes, zebras, and other fascinating animals.
The David Sheldrick Wildlife Trust, known for its elephant and rhino orphanage, is also situated in Karen, offering a heartwarming experience and a chance to contribute to conservation efforts.
Cultural and Historical Treasures
Karen boasts a rich cultural and historical heritage that is worth exploring. The Kazuri Beads Women's Cooperative is a must-visit destination, offering a glimpse into the art of bead-making and empowering local women. Visitors can witness the intricate craftsmanship and even purchase beautiful handmade jewelry as souvenirs.
The nearby Matbronze Wildlife Art Gallery and Foundry showcases exquisite bronze sculptures inspired by African wildlife, combining art and conservation.
Dining and Shopping
Karen is home to a vibrant food scene that caters to diverse tastes. The suburb offers an array of charming cafes, restaurants, and gourmet eateries. Visitors can indulge in a variety of culinary delights, from traditional Kenyan dishes to international cuisines.
The Talisman Restaurant, known for its fusion of flavors and serene ambiance, is a popular choice among locals and tourists. The Karen Shopping Centre is a bustling hub for shopping enthusiasts, featuring boutiques, galleries, and unique stores.
Outdoor Adventures
Karen's scenic setting provides ample opportunities for outdoor adventures. The suburb is dotted with equestrian centers that offer horseback riding experiences, allowing visitors to explore the surrounding countryside on horseback.
The Ngong Hills, a range of majestic hills located nearby, presents an excellent opportunity for hiking enthusiasts. The panoramic views from the hills are simply breathtaking, providing a sense of tranquility and serenity.
Lavington: Leafy neighborhood in Central Nairobi
Nestled in Nairobi's leafy suburbs, Lavington exudes an air of elegance and exclusivity. This upscale neighborhood boasts luxurious residences, upscale restaurants, and stylish boutiques.
Additionally, you can indulge in a gourmet dining experience at one of the high-end restaurants, pamper yourself with a spa treatment, or enjoy a leisurely stroll through the beautifully landscaped streets.
Lavington offers a serene escape from the bustling city center while providing easy access to Nairobi's key attractions, which makes it one of the most practical areas in Nairobi.
Tranquil Residential Haven
Most areas in Nairobi are known for their tranquil and leafy residential streets, however, Lavington is lined with beautifully manicured gardens and luxurious homes as well.
The neighborhood offers a peaceful retreat from the city's hustle and bustle, making it an ideal place for families and individuals seeking a serene living environment.
The quiet ambiance, coupled with the presence of parks and green spaces, creates a refreshing atmosphere that promotes relaxation and well-being.
Culinary Delights
Lavington boasts a diverse and exciting food scene, with a plethora of restaurants, cafes, and eateries that cater to various tastes. From international cuisine to local delicacies, the neighborhood offers a wide range of dining options.
Visitors can savor delicious meals prepared with locally sourced ingredients and experience the vibrant flavors of Kenyan cuisine.
Lavington Curve Mall is a popular destination for food lovers, housing a variety of restaurants that serve delectable dishes from around the world. When it comes to culinary variety, Lavington is definitely one of the best neighborhoods in Nairobi.
Shopping and Leisure
Lavington provides a delightful shopping experience, with a mix of high-end boutiques, shopping centers, and local markets.
The Junction Mall, located nearby, is a popular destination for shopping enthusiasts, offering a wide range of fashion, accessories, electronics, and more. The mall also features entertainment options such as a cinema, gaming zones, and a family-friendly atmosphere.
In addition, Lavington Green Shopping Centre presents a charming setting for boutique shopping and relaxed dining experiences.
Outdoor Activities and Nature:
While Lavington is predominantly a residential area, it offers access to nearby green spaces and recreational facilities.
The Arboretum, a large urban forest situated close to Lavington, provides an escape into nature, with walking trails, cycling paths, and picnic spots. Visitors can enjoy peaceful strolls amidst the lush greenery and immerse themselves in the serene beauty of the forest.
For those seeking sports and leisure activities, the nearby Lavington Sports Club offers facilities for tennis, swimming, and other outdoor pursuits.
Gigiri: The diplomatic hub of Nairobi
Diplomatic Enclave
One of the most prominent areas in Nairobi is Gigiri, which is renowned for being a diplomatic enclave, hosting numerous embassies, high commissions, and consulates.
The United Nations Office at Nairobi (UNON) is a significant presence in the area, serving as the UN's African headquarters. Gigiri's diplomatic presence fosters a cosmopolitan environment and cultural diversity, with a mix of nationalities, languages, and traditions coming together in this vibrant neighborhood.
Upscale Residences and Estates
Gigiri is home to upscale residences, gated communities, and luxurious estates that cater to diplomats, expatriates, and affluent residents. The neighborhood boasts beautiful villas, spacious apartments, and serene surroundings.
These exclusive residential areas provide a serene and secure living environment, attracting both local and international residents seeking a high-quality lifestyle.
Retail and Dining Experiences
Gigiri offers a range of retail and dining options that cater to the diverse community residing in the area.
The Village Market, a premier shopping mall, is a popular destination that combines shopping, dining, and entertainment. Visitors can explore a variety of international brands, enjoy culinary delights from around the world, and experience vibrant cultural events and exhibitions.
The mall also hosts a Maasai market, offering a unique opportunity to purchase traditional Kenyan crafts and souvenirs.
Conclusion
Nairobi provides a diverse range of areas, each with a distinct personality and charm. This city offers something for everyone, whether you're looking for a lively urban experience, a tranquil suburban hideaway, or a combination of both.
There are many diverse areas in Nairobi, from the busy streets of the Central Business District to the lush green avenues of Karen and the culturally vibrant Westlands, cater to a variety of lifestyles and interests. When selecting the ideal neighborhood for you, it's critical to take your priorities—such as convenience, safety, and the local culture—into account.  
In the end, discovering Nairobi's finest neighborhoods can help you choose a place to live as well as a sense of belonging and a closer connection to this interesting and constantly changing city. Therefore, Nairobi's neighborhoods are prepared to welcome you with open arms and exciting chances, whether you're a newcomer or a lifelong resident.