The Best Diani Beach Restaurants
Welcome to Diani Beach's culinary heaven, where the turquoise seas of the Indian Ocean meet a bustling and varied restaurant scene. Diani Beach, which is located along the scenic Kenyan coast, is well-known for its mouthwatering cuisine as well as its immaculate beaches. From hidden gems offering up Swahili cuisine to exquisite beachside establishments with an international flair. in this post, we'll dive deep into the best restaurants Diani Beach has to offer!
Ali Barbours Cave Restaurant
A popular restaurant called Ali Barbour's Cave Restaurant is located right in the centre of Diani Beach. This restaurant is unique because of its exceptional location inside a real coral cave, which creates a mesmerising and romantic environment.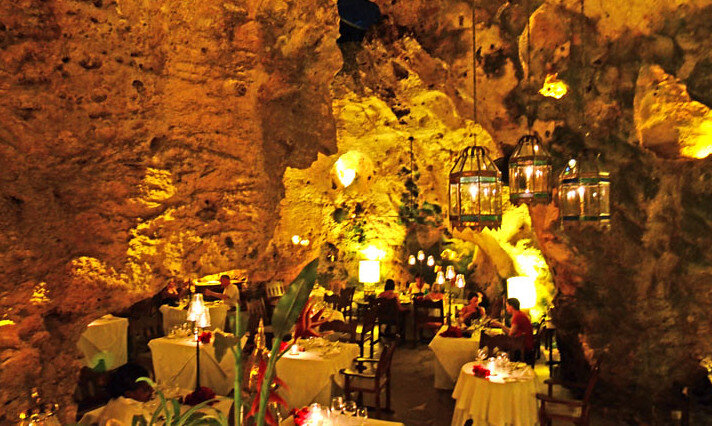 Diners are treated to a spectacular experience that combines the grandeur of nature with gastronomic brilliance inside the cave's dimly lighted interior. The restaurant offers a wide variety of international and seafood meals on its menu.
Ali Barbour's is known for serving up the freshest catches, including grilled prawns, lobster, crab, and different fish preparations, because of Diani Beach's close proximity to the Indian Ocean. Ali Barbour's is definitely a favourite when it comes to Diani Beach restaurants.
Making appointments is advised. Especially during the busiest travel seasons, since this distinctive eating location is a popular pick for couples looking for a romantic evening.
Ali Barbour's Cave Restaurant, close to Diani Beach, provides a genuinely excellent eating experience in a magical natural environment, making it a must-see for travellers admiring Kenya's coastline.
The Salty Squid
With breathtaking views of the Indian Ocean, The Salty Squid is situated directly on the beach. It has a wide variety of delicious cuisine and drinks. This restaurant is ideal for lunch, dinner, and beverages because of its knowledgeable staff and welcoming atmosphere.
Nomad Beach bar and restaurant
A gastronomic gem is hidden amid the breathtaking coastline of Kenya's Diani Beach at Nomad Beach Bar. It provides a lovely eating experience that perfectly suits the paradisiacal surroundings with its classy yet laid-back attitude. The cuisine on the menu here is a delicious combination of Swahili and Mediterranean flavours.
Customers can choose from a variety of dishes made with freshly caught fish, flavorful seasonings, and innovative culinary presentations.
The restaurant at The Sands at Nomad offers a selection of dishes to suit a variety of tastes. Whether you're revelling in the catch of the day or savouring a scrumptious pizza from the wood-fired oven.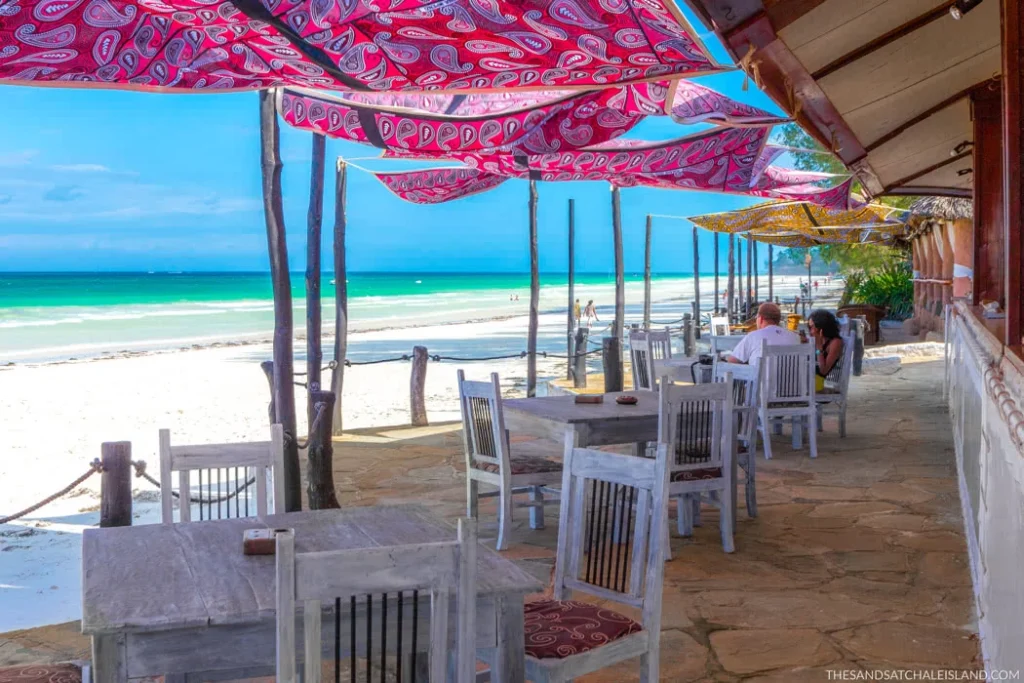 Sails Beach Bar and Restaurant at Almanara
This gorgeous restaurant is situated on the beachfront in Almanara. An atmosphere unlike any other on the east coast of Africa is produced by the sweeping sails and curved beams.
Being by the sea, seafood is naturally in the spotlight, with local fisherman bringing in their daily catch of lobster, prawns, snapper, tuna, and other species. The remainder of the menu features worldwide classics with some Italian and Thai influences. They also cultivate the majority of the fresh produce in-house.
Additionally, there are a few favourites that continue to appear on our seasonal core menu. To start, some of the most popular dishes are Tuna Carpaccio, Crispy Calamari, and Fresh Kilifi Oysters. The main dish is a seafood platter with either our renowned "Zanzibar Snapper" or Ginger Crab.
Asha Bistro at Asha Boutique Hotel
The vibrant and diverse cuisine at Asha Bistro is a beachfront restaurant surrounded by beautiful palm trees.
A wide variety of regional and international cuisines are expertly prepared by their team of chefs. They utilise fresh seafood from the Indian Ocean, locally bred poultry and meats, and seasonal produce from market gardens.
The restaurant provides great value for money while you'll be able to enjoy your meal in a beautiful beachfront setting.

Shashin Ka
In the centre of Diani Beach, Asian-owned Shashin-Ka offers a Japanese experience. The quaint eatery offers another eating choice in Diani and serves sushi and other traditional Japanese dishes.
Eleven Pearl
From breakfast to dinner, Eleven Pearl offers a variety of local and international specialities! You can choose from the buffet or "A la carte" menu, and they serve cuisines from around the world. Occasionally they'll also host live music and for special events.
Pallet Cafe Diani
The café was established with the goal of offering fantastic food and outstanding service while fostering the education and employment of deaf individuals in the hospitality sector. The Pallet Cafe is beachfront and offers amazing views while enjoying your morning coffee or evening sundowner.
They also have a kitesurfing school on site, which offers beginner courses, private coaching, equipment rentals, and storage for kitesurfing, wing foiling, and stand-up paddling.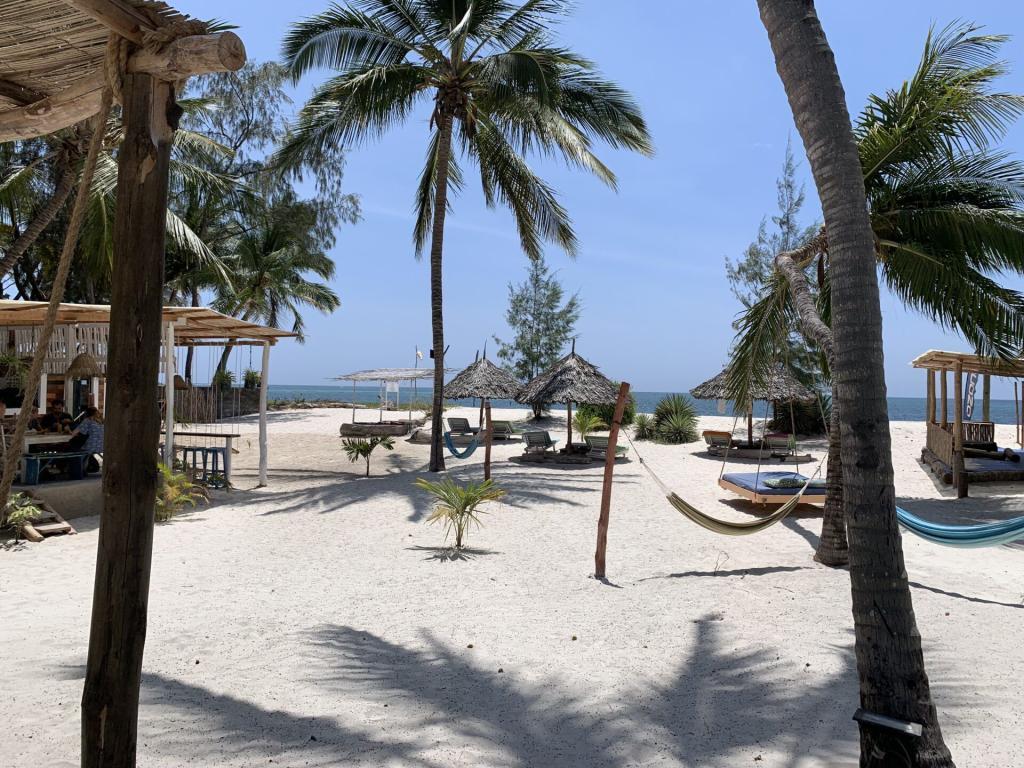 Apero
At Apero, you can find the tastiest dishes possible with a dash of flavour from all over the globe. Regarding the beverages, they have a bit of a reputation for offering Diani's meanest cocktails. The next time you visit, be sure to inquire which cocktails are currently available and you won't be disappointed!
Kokkos Cafe
Since 2000, Kokkos Cafe Bistro has been serving customers in Diani. This welcoming restaurant showcases our love for market-fresh ingredients, straightforward cuisine, and a welcoming setting. Their menu offers a variety of delicacies, all of which are prepared on-site by their team of professional chefs.
There is something for everyone to enjoy with some of the most amazing food combinations.
Tiki Bar Diani
One of the first places you will undoubtedly notice when you arrive in Diani is Tiki Bar & restaurant. Tiki Bar is noted for its flamboyant international menu, which includes many traditional Kenyan coastal delicacies.
The service and attention to detail at Tiki Bar make it one of Diani's most well-liked Diani Beach restaurants for locals to meet and greet and dine out.
The food at the Tiki bar is focused on Kenyan coastal dishes with a variety of international cuisines as well. They always a large range of daily specials to choose from, so be sure to also keep an eye out for their well-liked theme nights.
Leonardos Restaurant
If you want a wonderful, Italian-influenced setting with delicious pasta and pizza, as well as Italian meat and seafood dishes, you should go to Leonardos. Leonardo's ice cream is hands down the best. It's one of my favourite Italian Diani Beach restaurants. Leonardos truly has it all, with everything located under a big Makuti roof around a central bar area with private eating enclosures also available and a kids' playroom.
Jollys Pizzeria
Jolly Bar and Pizzeria is a terrific alternative for dining out to enjoy enormous pizzas with a huge assortment of toppings and styles. The experience is enhanced by a well-stocked bar, and deliveries are also available if you want to enjoy their delicious meals at home.
Colobus Shade
This one truly is a treasure. Colobus Shade is a great option for inexpensive seafood in Diani and is located near Tequila Sunrise and KFI store on the route to the beach in Galu. When it comes to value for money, Colobus Shade is definitely one of my favourite budget Diani Beach restaurants.
For the most affordable pricing you can find, you can purchase a seafood platter that may include lobster, crab, prawns, and fish fillet. A tip is to contact or visit in advance to make reservations.
Conclusion
In conclusion, Diani Beach is a gourmet heaven for food lovers from all over the world in addition to being a tropical paradise for beach lovers. This coastal jewel offers a wide variety of eating experiences, from delicious fresh seafood dishes to cosmopolitan cuisine. Diani Beach has something to suit every taste, whether you're searching for a family-friendly setting, a romantic evening by the sea, or a taste of regional Kenyan cuisine.