The 4 Best Luxury Hotels in Diani Beach
I'm pretty sure by now we all know that Diani Beach is a pristine stretch of coastline nestled along the turquoise waters of the Indian Ocean in Kenya – and is one of the most beautiful beaches in Africa. There are various accommodation options available from budget stays, mid-range options, all the way to very luxurious experiences. In this post, we'll have a look at some of the top luxury hotels in Diani Beach.
Swahili Beach Resort
Accommodation & Amenities
Swahili Beach's accommodations are like stepping into a dream where tradition meets modern pampering. Picture this: Swahili vibes blending seamlessly with all the modern comforts you crave. It has definitely made its name as one of the best luxury hotels in Diani Beach.
Whether you're eyeing that room with a sea view that'll have your Instagram exploding or you're all about chilling in a cozy garden-facing setup, they've got you covered. It's not just a place to crash; it's an experience crafted to spoil you silly. So buckle up for a ride where every corner oozes relaxation, cultural flair, and a sprinkle of that beachy magic.
This place is like a treasure trove of indulgence, with something special for everyone. Let's start with the foodies – multiple gourmet restaurants ready to take your taste buds on a tantalizing journey.
Craving a spa day? Oh, they've got that covered too, with luxurious treatments that'll leave you in a state of blissful oblivion. If you're a poolside lounger, take your pick from the inviting pools that beckon you to take a refreshing plunge.
Fitness enthusiasts, don't fret – there's a well-equipped gym to keep your routine going. And guess what? They've got their own private beachfront, so sun, sand, and sea are just a few steps away. Whether you're up for some water sports, beachside relaxation, or simply unwinding with a cocktail in hand, you're in for a treat. It's a bit like having your own slice of paradise, complete with all the bells and whistles to make your stay nothing short of extraordinary.
Diani Reef Beach Resort and Spa
The opulent Diani Beach Resort and Spa is tucked away along Kenya's breathtaking coastline of Diani Beach. As one of the best luxury hotels in Diani Beach, the resort provides the ideal balance of rest and action with its immaculate white sands and turquoise waters. Diani Beach Resort and Spa offers an ideal getaway for travellers looking for both peace and excitement, with top-notch amenities, luxurious spa services, and a variety of water sports activities.
Accommodation & Amenities
Standard Rooms: These rooms were designed to satisfy all requirements and offer modern comforts to make your stay relaxing and comfortable. Each room has air conditioning, a private patio, and other standard amenities like a TV with local and international channels, an electronic safe, tea and coffee making facilities, mineral water, a hairdryer, and toiletries. Our nicely appointed rooms provide the ideal retreat for a genuinely enjoyable stay because your comfort is our first priority.
Deluxe Rooms: In one of the elegantly designed Deluxe Rooms, experience the pinnacle of comfort and luxury. These tasteful rooms, each measuring 44 square metres, have been carefully selected to provide guests an exceptional stay. Experience the convenience of modern amenities like satellite television and a luxurious Jacuzzi in the bathroom, which fosters an incredibly peaceful atmosphere.
Junior Suites: The junior suites were designed to provide guests with the highest level of luxury and comfort. Thanks to their spacious design and elegant furnishings, these opulent rooms offer a completely enhanced experience. Each suite features modern amenities including satellite television and a Jacuzzi in the bathroom to promote comfort and relaxation. A separate lounge area is also included in the Junior Suites, giving you more space and raising the degree of comfort throughout your stay.
Penthouse Suites: The penthouse suites are elegantly decorated with subdued colours and sumptuous furnishings, instantly conjuring up feelings of pure delight and wealth. These lavish accommodations have exquisite interior design, a jacuzzi, and a private balcony with stunning views of the Indian Ocean's azure waters. The lavishly furnished 198.73 square metre penthouse suites feature separate sitting, dining and sleeping rooms in addition to an open-concept living area.
The Sands at Nomad
When talking about the best luxury hotels in Diani Beach, The Sands at Nomad definitely deserves a mention. The award-winning boutique resort is the ideal getaway for those who want to experience the breathtaking Diani Beach. Indulge in first-class dining, savour the large selection of old and new world wine from the owner's wine cellar, scuba dive on uninhabited reefs with Kenya's top PADI dive center, or just unwind at the resort and take in the legendary Kenyan hospitality that the south coast is known for.
Accommodation & Amenities
All rooms are equipped with the following:
15 Steps to the Beach
Mini Bar
Room Service
King Size Bed
Air Conditioner
Free Wifi
Ocean View Suite: The lavish Ocean View Suite provides sweeping views of Kenya's magnificent Diani Beach. Due to their expansive private verandas, these stunning apartments are ideal for a couple seeking the ultimate beach retreat.
Family Ocean View Suite: The breathtaking Diani Beach in Kenya is visible from our opulent Family Ocean View Suite. Families or groups of friends searching for a private getaway on a fantasy beach vacation will love this room.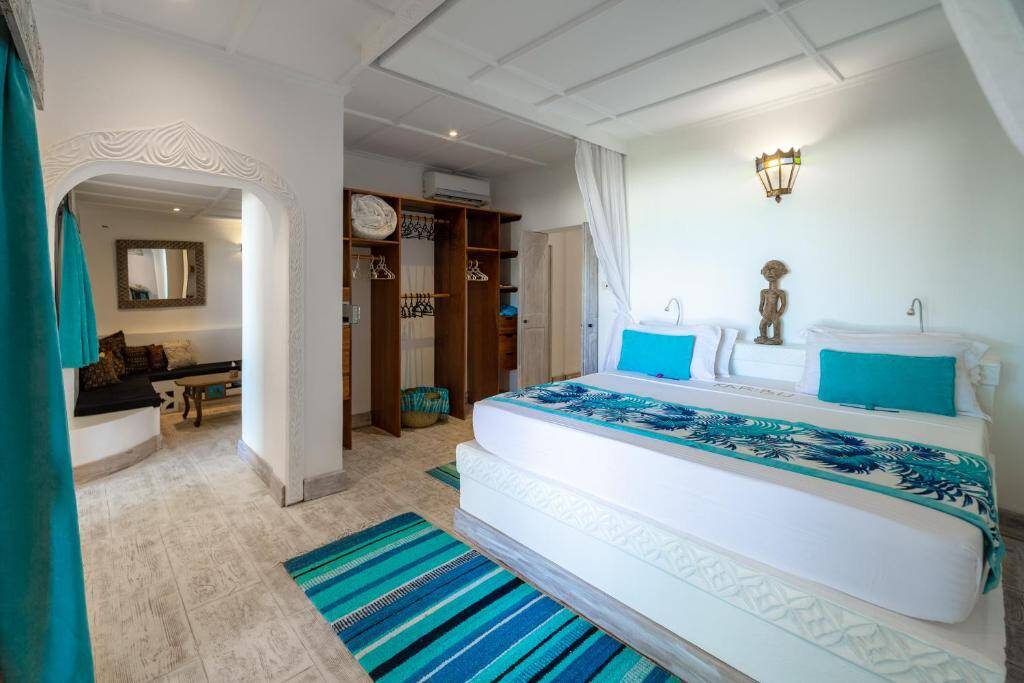 The Family Ocean View Suite is located on the ground floor and is only 30 metres from Diani Beach's fine dunes. This suite includes a huge living room, two bedrooms, and two bathrooms, one of which has a bathtub and the other a shower. It is the closest thing to a lake you can get without swimming. There is also a sizable private porch with magnificent sea views.
Sea Breeze Rooms: With a lovely sea wind whirling through the air, the Sea breeze rooms are a sanctuary of calmness and peace. They are only a few feet from the beach and furnished in vivid ocean blues with Lamu ceilings. The Sea Breeze rooms look out into the water and feature a traditional vibe. Despite not having a direct sea view, they exude a lovely seaside vibe. Every room has a private balcony from which you may enjoy the balmy sea breeze in the evening.
Beach Cottages: The traditional Beach Cottages offer complete seclusion and privacy for a romantic getaway thanks to their ideal location on a private beachfront lawn and palm thatch ('makuti') roofs that wrap around each veranda.
Nomad Private Villa: For families or groups of friends seeking a retreat, these peaceful villas are excellent. They have their own private pools, dining areas, and an unrestricted view of and access to the beach, making them the perfect choice for people wishing to spend quality time with loved ones.
Diamonds Leisure Beach & Golf Resort
Set in fabulous botanical gardens Diamonds Leisure Beach & Golf Resort is a perfect haven.
Accommodation & Amenities
The 18-hole golf course at Diamonds Leisure Beach & Golf Resort, which is situated on 38 acres of beachfront property, with a view of the Indian Ocean.
The resort also features a spa, casino, and outdoor pool. Satellite TV, a safety deposit box, and stylish African-inspired décor are included in each air-conditioned room and suite. There are free toiletries in the private bathroom.
Visitors can unwind on Diani Beach or at the Lotus Health & Relaxation Centre with a massage. Additionally, they can partake in pursuits like a round of golf or scuba diving.
Handicrafts and souvenirs are available in the shopping centre. Additionally offered are a kids club, a tour desk, and several event venues. Diners at Diani Restaurant may see the ocean while they are eating.
Garden Rooms: 28sqm in size and includes a terrace and/or balcony depending on the floor you'll be staying. The maximum occupancy is 3 pax with 1 extra bed. You can either have a double bed or twin bed.
Poolside rooms: 37sqm in size and includes a terrace and/or balcony depending on the floor you'll be staying. The maximum occupancy is 3 pax with 1 extra bed. You can either have a double bed or twin bed.
Sea View rooms: 37sqm in size and includes a terrace and/or balcony depending on the floor you'll be staying. The maximum occupancy is 3 pax with 1 extra bed. You can either have a double bed or twin bed.
4 bedroom oasis villa rooms: Ground floor with communal terrace and wading pool and the villa has 4 rooms in total.